National Cement Company (NCC)
Best Cement Company !
The National Cement Company (NCC), founded within 2006-2008, is a wholly owned subsidiary of Hayel Saeed Anam Group of Companies (HSA)—the most deeply rooted and pioneering economic, industrial and commercial group in the Republic of Yemen. As the first privately owned company operating in cement manufacturing and production in Yemen, NCC has always contributed and would continue to contribute effectively in affecting a sustainable development for our homeland.
Learn More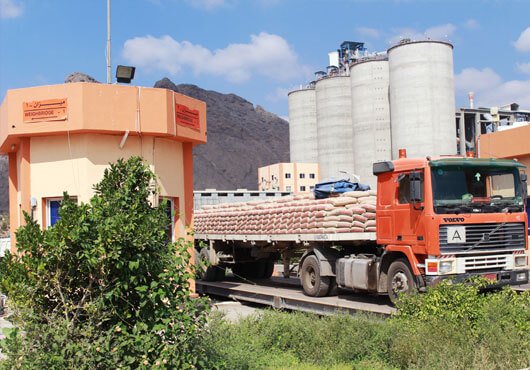 National Cement Company
It is one of the companies of Hayel Saeed Anam Group (HSA).
In 2001, Hayel Saeed Anam Group (HSA) decided to invest in a cement production plant due to the increasing gap between supply and demand in the local market.

With an assisted grant from the United States Trade and Development Agency (TDA), a feasibility study was conducted and the current site selected as a suitable site for the plant.

The name of the National Cement Company was established in 2003.
HSA Group
The group has companies in many different types of industries and services
The group has companies in many different types of industries and services but the National Cement Company was its first venture into the cement production industry.

The HSA Group was first established in 1938 in Aden, on the south coast of Yemen, as a small retail store of food products. Since then it has evolved into a retailer, importer and distributor of all types of commodities. By the late 1960s it had started its first manufacturing company, which was a biscuit factory in the City of Taiz.

From there the group branched out into vegetable oil, dairy products, lubricant oils, canned foods, corrugated boxes, flour milling and most recently, sugar milling and cement production. The group has duplicated many of these capabilities in other countries, such as Saudi Arabia Egypt, Malaysia, Indonesia and the UK .

Besides its manufacturing activities, the group is involved in trading, banking, shipping, insurance, household appliances, hotel services, healthcare and hospitals. It also represents multinational companies in the automotive industry such as Ford, Hyundai and Porsche; in health-care such as Johnson & Johnson; and in household appliances, such as JVC, Sharp and Gillette .

Today the group employs around 25,000 people worldwide and we are proud to say that the HayelSaeedAnam Group is one of the largest and most well-respected privately held groups of companies in the Middle East.